Ryan

- Ohio University - Class of 2021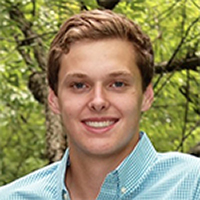 "Applying early doesn't always mean you'll get a clear decision of accepted or denied."
Hometown: Powell, Ohio
High School: Public
High School GPA: 3.65
SAT: 1160
ACT: 24
Major: Marketing, psychology minor
Goals: Pharmaceutical sales
I thought that when I applied for an early action decision to my top choice college, I'd receive my decision sooner -- but I was wrong.
Getting ahead with Early Action
I wanted a large college with a good business school and Greek life. Miami University in Ohio was my first choice. I really loved the preppy atmosphere of the campus and its Farmer School of Business. It was the perfect distance from home -- just two hours away -- plus I knew a lot of people attending the school already.
I was a little nervous about my SAT and ACT scores because they were below average for Miami, but I hoped my achievements and internships would make me stand out. I was very active in DECA (an international club for students interested in business), and I had done three marketing internships while in school, including one at an advertising and marketing agency specializing in cancer medications, which spurred my interest in pharmaceutical sales.
I decided to apply early action to every school that offered it. I didn't see anything but an upside to applying early action. I'd get my decisions sooner and have better opportunities for housing and scholarships. I figured I might as well just grind out my applications. It was a struggle, but the Common Application was a big help. I also took an English course over the summer before my senior year, which gave me the chance to finish my essay and get feedback from my English teacher before my senior year began.
Waiting (and more waiting) for Miami
I heard back from all of my colleges within two weeks of sending in my apps, except for Miami. A month later, I still hadn't heard, but some of my classmates had received admission offers, so I was concerned. I had been accepted to my second choice, Ohio University, and I wanted to have my decision settled.
In January, I received a letter from Miami, notifying me that I would receive my decision on March 15. This made me mad. I had gone to the trouble to apply early, and now I still had to wait? I didn't realize it at first because it wasn't clear in the letter, but I had been deferred. Miami was going to reconsider my application with the regular decision pool. But to me, it just meant more time waiting. Miami was my first choice, so I didn't want to commit to another school until I heard from them.
Two months later, regular decisions from Miami were due,. I was competing in a regional DECA championship where my partner and I were presenting a marketing project. Before the competition started, I checked Miami's website. When I saw I was waitlisted, I was super upset. It almost felt worse than being denied. Even though I had made their application a priority, I wasn't a priority to them.
Why wait? Ohio has it all
When I got home that night, I thought about my offer from OU. The university had not only offered me a merit scholarship, but also direct admission to its business school. Academically, its business school was on par with Miami's -- and it even had a center devoted to sales training and a sales certificate program, which is more focused on my career goals. There was no reason to stay on Miami's waitlist. I put my housing deposit down and confirmed my intent for Ohio University. Looking back, I wish I had done it sooner.
My ups and downs
After waiting so long for a decision from Miami it was disappointing and frustrating to get waitlisted. But it was even worse to get the news just before the regional DECA championships. I was upset, but I pulled myself together, and hours later my partner and I took first place in the DECA competition! I thought, if I can win a competition like this, it's okay if Miami doesn't want me. It's their loss. We ended up winning the state championships and went onto the international competition where we took sixth place. A little part of me couldn't help thinking "In your face, Miami!"
What I learned
I realized later that OU was a much better fit for me -- not just because of its sales program, but because of the campus environment. While I liked the preppiness and Greek life at Miami, it also felt more exclusive to me. OU's campus has a laid back feeling. I know I'll feel comfortable going to class in my sweats if I want to. The students are so welcoming and are also more diverse ethnically and socioeconomically. I am definitely going to be more comfortable there.
The money factor
My parents agreed to pay only for in-state tuition. If I chose a college out-of-state, I'd have to pay for the difference. This ruled out Indiana University. I was ecstatic when I was accepted there, but tuition was twice the cost of my Ohio schools. Fortunately, OU gave me a merit scholarship covering about 10 percent of my costs. My parents will cover the rest.
My advice
While the Common Application makes applying to your schools easier because you fill out one application and send it to all your schools, there are many details within the application that are time consuming. I found it helpful to complete the Common App a little bit at a time, as you can save your application and come back to it later.
If you can, apply for early action. Just remember that applying early doesn't always mean you'll get a clear decision of accepted or denied. You could get deferred into the regular decision pool. So try to be patient.
Read More Student Stories:
| | | |
| --- | --- | --- |
| | Aanand - Columbia University "Don't be intimidated if you go to a smaller high school or have fewer extracurricular opportunities. Colleges consider what you do with what you have." | |
| | Rebecca - UNC Chapel Hill "Diversity numbers were important to me, but I found that the data didn't always reflect how diverse the school felt." | |