Ella

- Occidental College - Class of 2024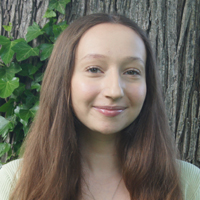 "I worried that my peers would find my schools 'unimpressive'— and that I was cheating myself by not applying to the Ivy League schools I had once dreamt of."
Hometown:

Seattle, Washington
High School:

Private
GPA:

3.81
ACT:

31
Major:

Film and Media Studies
Goals:

Study my passion surrounded by like-minded individuals, make long-lasting friendships, travel, and become an active member of my community and society as a whole
Extracurriculars:

Film and media related activities since middle school; California State Summer School for the Arts, Internships at Film Festivals, co-led Environmental Interest Group and led initiative to get chickens on campus, part of a gun-violence prevention group
Having two parents who went to Stanford and a brother who went to UC Berkeley can definitely make someone feel inferior when it comes to the college process. For so long, I felt pressured to apply to highly selective schools. I was looking for a prestigious "big name" school to be on par with my family and my classmates. I was considering Brown, Stanford, Pomona, and USC.
Stanford legacy pressure
My parents took me to visit Stanford, and it was amazing, with a beautiful campus and incredible opportunities. I went home daydreaming about what it might be like to go to a school like that, with an acceptance rate under five percent and an international reputation. But, statistics wise, I knew it was unlikely that I would get into Stanford or the other top schools I was considering.
Although I was a hardworking and devoted student, my transcript was not perfect. Math and science had always been a huge struggle for me. I thought I needed to be this perfectly well-rounded student who excelled in all subjects, and that prestigious colleges would reject me due to my lack of math ability. I took the ACT twice hoping to improve my math and science scores, but my scores didn't improve.
Looking for a small college community
I started looking at schools that would be more likely to accept me, and I started really thinking about my likes and dislikes and what type of community I would thrive in. I realized that I love small communities, like my 500-person high school. I am a very community-oriented person, who tends to want to make a family out of the people around me. So, I began looking at small liberal arts colleges.
One of my closest friends goes to Lewis & Clark College, a small liberal arts college in Oregon, so I spent the weekend with her, living in her dorm. This was a great couple of days! I really got to experience what it's like to be a college student at Lewis & Clark. The campus felt so close-knit, which I loved. My friend said "hi" and smiled to everyone she saw as we walked across campus, and they returned the gesture.
An unplanned visit reveals a top choice
Next, I visited Southern California to look at Pitzer, Scripps and Loyola Marymount. I hadn't planned on visiting Occidental—and on the day of my visit I was exhausted and thought about skipping it. However, I went, and I fell in love with the school. Beyond its picturesque campus, it had the same feeling of community as my high school.
Luckily, my tour guide was a film student, so I got to ask her tons of questions about the program. She talked about how the program is both difficult and rewarding, and how the other students and faculty are always there to support you. I knew from that moment how badly I wanted to be a part of it. I spent the drive back to the hotel imagining myself at Occidental and feeling thankful that I had decided to visit.
To ED or not to ED?
I decided to apply to Occidental for an early decision, even though I knew that if I got in, I'd have to accept. It was a difficult choice to make. I was afraid of missing out on the experience of picking between schools after applying to a whole list of them. However, I decided that it was okay for me to sit out that rite of passage. I was lucky enough to have found a school early on that I liked a lot, and that I had pretty good odds for. So, I decided to go for it.
When I checked for my acceptance on Occidental's website, and I saw the confetti across the screen, the first emotion I felt was relief. I could finally take a breath knowing that for me, the long college application and admissions process was over.
My ups and downs
I had times when I felt "less-than" compared to my friends who were applying to more selective schools and Ivies. I worried that not only would my peers and my family find my schools "unimpressive"—but that I was cheating myself by not applying to the Ivy League schools I had once dreamt of.
Then I realized that I created my college list from the heart. These schools were the best fits for me. I knew I was making a decision that would make me happy, not make the people around me jealous or proud.
When it came time to tell my parents I wasn't going to apply to Stanford I think I worried about it more than I needed to. They were fine with it! They had always wanted me to apply to Stanford because they loved their experience there and wanted me to be a part of it. But they said they valued my happiness over family tradition.
What I learned
The college process is a time when you might look at what others are doing and feel envious, and this is a dangerous path to go down. We all have our skills and areas to improve on. I will never be a genius mathematician, and that's OK!
At first, I was more focused on the reputation of the school than the quality of the experience I would have there. Eventually I realized that just because a school is a "big name" or has a single-digit acceptance rate does not mean it's the perfect school for me.
My advice
The selectivity of a school does not indicate how much you will love it.
Do some research to find out which standardized test is better for you and your skill set.
Everyone is on their own college journey! Focus on your journey and your journey alone.
Read More Student Stories:
| | | |
| --- | --- | --- |
| | Ryan - Ohio University "Applying early doesn't always mean you'll get a clear decision of accepted or denied." | |
| | Erin - University of Hawaii - Manoa "Do your research. When it came time to make my college decision, I realized I didn't really know much about the colleges on my list or understand why I had applied to some of them." | |