SAT Testing Updates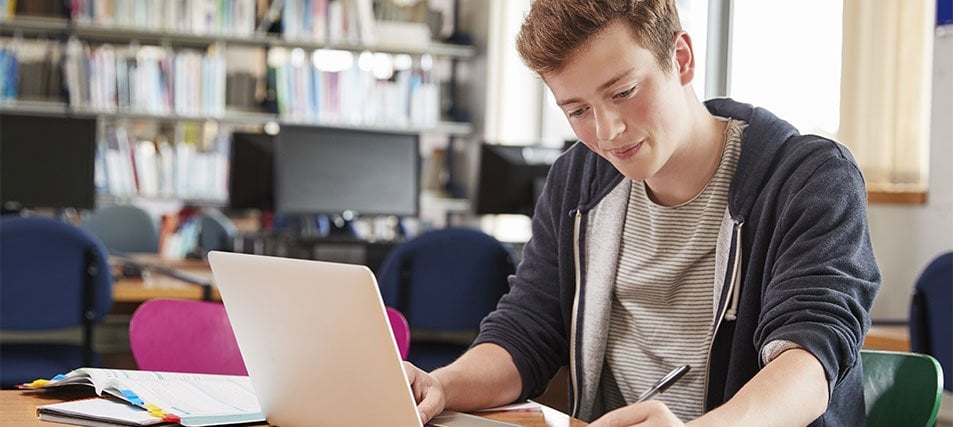 Trying to make your SAT testing plan? We've put together recent information about the SAT, including test dates and registration deadline for 2023-2024, and other developments.
The New digital SAT
In March 2024, the College Board will be rolling out a new digital version of the SAT to students in the United States. Students will be required to take the test on a computer or laptop at a test center or at their school, and a paper version will no longer be available.
Students can take the test on their own laptops, a device provided by their school, or on a device provided by the College Board. Students who need to borrow a device from the College Board will need to register and request their device at least 30 days before test day.
A digital version of the SAT has been available to international students since March 2023, and a digital version of the PSAT will be available to high school students beginning this fall.
Here is a summary of the changes you can expect to see in the new digital SAT.
The test will be "adaptive" – meaning that the questions a test-taker sees are based on their answers to earlier questions. If students do well on the opening sections of the test, they will be given harder questions as they proceed (yielding a higher score). Students who don't do as well in the beginning will be shown easier questions, which will reduce their score.

The new test is about one hour shorter than the old test, taking approximately 2.5 hours and contains more concise math questions and shorter reading passages.

The adaptive nature of the test means that no two tests will be the same. Therefore, students won't be able to share answers, making the tests more secure.




The test is a "digital testing application" that includes a number of tools and features, including:

A way to flag questions you wish to skip and come back to later
A countdown clock showing how much time you have left to complete the test

A built-in graphing calculator to use to complete the math section (students may still use their own calculators if they wish)

A reference sheet, for each math question, consisting of common formulas

Your scores will be delivered faster than before – in just a few days instead of weeks.
What's not changing?
The test will still be scored on a 1600 point scale.

It will still be given at test centers or at your high school – not at home.

Practice exams based on the new digital SAT will be released this fall (2023) through the College Board and Khan Academy.
What about technical issues?
According to the College Board, the new test is built to accommodate Internet outages. In the event of an outage, students will be able to save their work and continue testing with no loss of testing time. However, the College Board plans to equip each test center with a "technology monitor" to troubleshoot any technical issues that may arise.
If you will be a high school junior this fall, you'll have to decide whether you want to take the current version of the SAT this fall or the new version in the spring of 2024.
UPCOMING SAT TEST DATES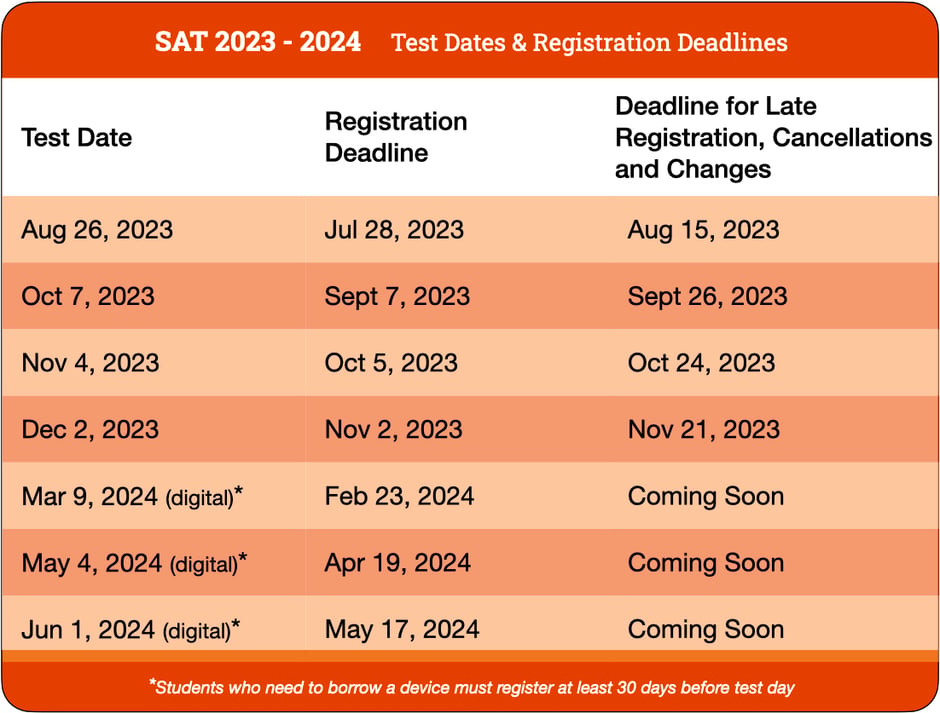 How to Register for the SAT
It's important to register for the SAT as soon as possible. The College Board recommends that high school juniors take the SAT for the first time during the spring of junior year so that they will have time to take the test again in the fall if they want to try to improve their scores. However, many students take the SAT at the beginning of junior year.
Here are some tips for registering for the SAT.
Register online. Registering on the

College Board website

is the fastest and easiest way to register. From your online account you can print your admission ticket, make changes to your registration, and view your scores as soon as they are available.
Decide if you want to receive mail from colleges. If you enroll in College Board's Student Search Service, you'll receive mail from colleges looking to recruit students, as well as from scholarship providers and test prep companies.

Pay your fees or apply for a fee waiver.

Fees for the 2023-2024 SAT are $60. Fees include the cost of sending your scores to up to four colleges (additional colleges are $12 each). For a complete list of fees, as well as more information about registration, fee waivers, and the test itself, visit the

College Board website
Submit a photo. You must submit a photo of yourself with your SAT registration. You'll find

pho

to

submission guidelines

on the College Board website. If your photo doesn't meet the requirements, you may not be allowed to test.

HOW TO RESCHEDULE A SAT REGISTRATION
If you are unable to register for a specific test date, the College Board advises students to select another location or another administration date.
If individual SAT test centers close due to coronavirus or other issues, updates will be posted to the College Board's Test Center Closings page. Students should also continue to check the College Board website and its Coronavirus Updates page for information.
If you cancel your SAT registration or change test center locations for your own personal reasons on or before your test day, you'll receive a full refund of your registration fee but you will be charged a cancellation or change fee of $25. Visit the CollegeBoard website for a complete list of SAT fees and refund policies.
SAT FEE WAIVERS
Fee waivers are available to students who cannot afford to pay the SAT registration fee. Visit the College Board website for details about obtaining and using SAT fee waivers and how to qualify. Students who qualify for a fee waiver can use it on up to two SAT tests and receive additional benefits, such as no cancellation or late registration fees, waived application fees at participating colleges, and free use of the CSS Profile financial aid form. If you were issued a fee waiver for a test that was later cancelled, the fee waiver will be credited back to your account, so you can use it for another test. Students may use their fee waivers to send test scores to colleges as well.
TEST PREP RESOURCES
College Board and Khan Academy® provide free SAT prep resources online, including full-length practice tests.
TEST-DAY REQUIREMENTS
Students will be required to bring a printed copy of their up-to-date admission ticket and a photo ID.
Masks are optional unless your test center requires them in accordance with local laws. Masks are allowed for students and staff who prefer to wear them.
Students who feel sick on test day should stay home and will not be charged a change or cancellation fee.
Students need to bring their own pencils and erasers (if taking the digital SAT, bring pencils if you plan to work out problems on paper) and an approved calculator.
YOUR SAT SCORES AND SCORE REPORTS
If you're taking the paper SAT, you should receive your score report two to three weeks after your test date. With the digital SAT, your test scores will be available online a few days after you take the test. In both cases, the College Board will send your scores to colleges about 10 days after the scores are released to you. Your score report will include your combined score and your scores by test section. With College Board's Score Choice, you can send only your best scores from a single test date to your colleges.
COLLEGES ARE BEING FLEXIBLE WITH TEST SCORES
Registering for and taking the SAT may be more predictable now than it has been during the past few years. However, it is still important to check with the College Board about test center closures and test date changes as they may continue to occur. Also, while many colleges are test optional or test blind, it's still important to confirm testing requirements for any college you're applying to.
We wish you the best on all of your upcoming tests!